The most common way to create a new Page is from within the Site Browser tool (Site -> Browser). However a new Page can be created from multiple places.
Locations to Add a Page
Site Browser Folder
Right-click on a folder, click on new, and then click again on Page.
Site Browser Detail Area
Click on the +Add New button on the right hand side of the Site Browser detail.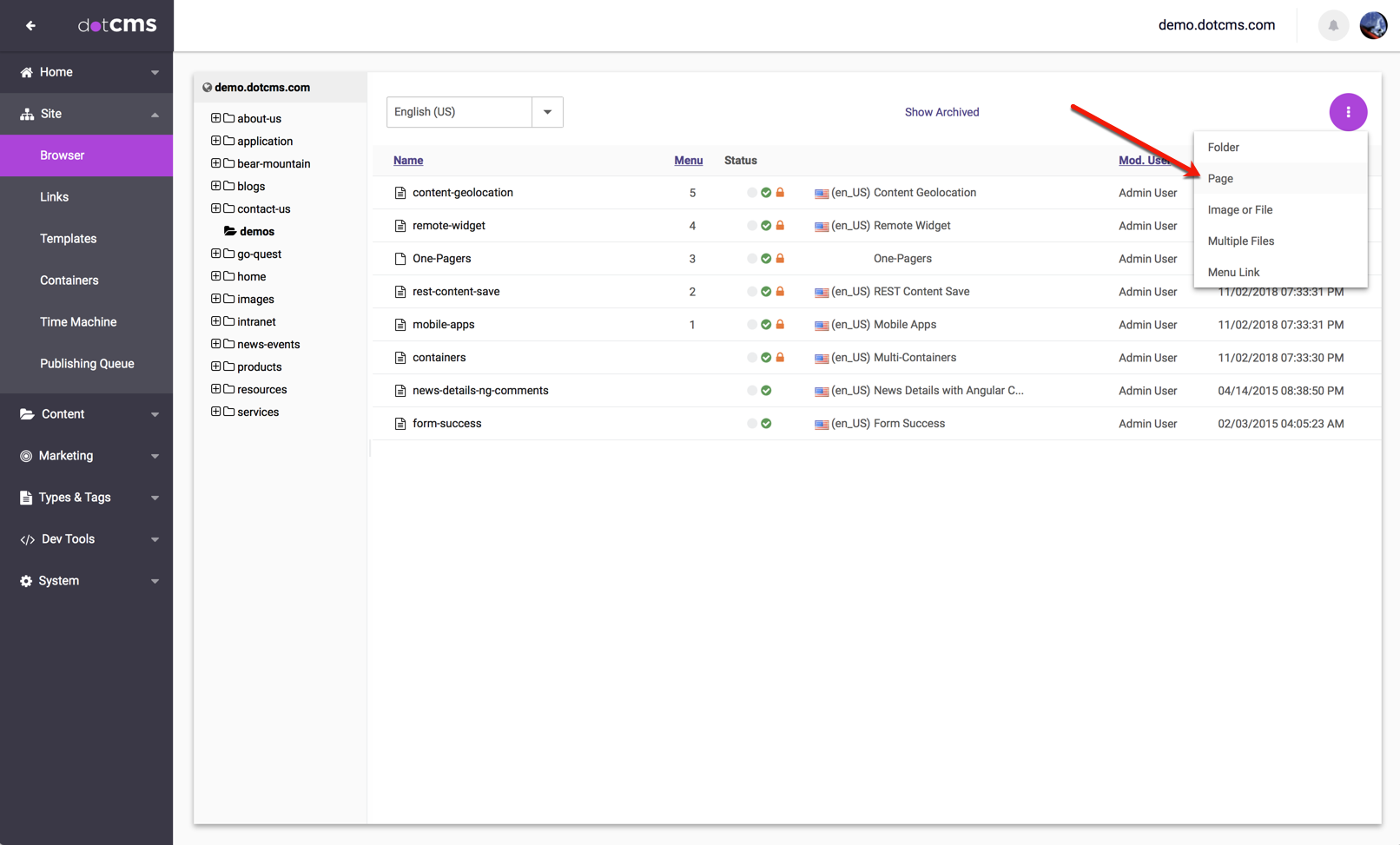 In the Page Editor
Click Create New Page in the action sidebar while editing any Page.
Page Properties
The following table lists the properties of the default Page Asset Content Type:
Property
Default Value
Description
Title
None
The name of the Page, displayed in both the dotCMS Site Browser and the user's Browser.
Host or Folder
The folder currently selected
in the Site Browser
The parent folder of the Page.
Template
See Below
The Template used to display and edit the Page.
Friendly Name
Automatically set to
match the Title
The name displayed in the menu (when the Show On Menu property is selected).
Url
Automatially generated
from the Title
The URL of the page (within the parent folder's URL path).
Show On Menu
False
Checking this option causes the Page to automatically appear in any dynamic navigation menus that display the current folder.
Sort Order (legacy)
0
A numeric value used to sort the order of objects in the navigation menu.


This value is only used if the Page has the Show On Menu property selected.
This is a legacy feature; you may now re-order the menus using a drag-and-drop method from the Page editing screen.

Cache TTL
15
Time (in seconds) to cache the page contents.
Note: The default Page Asset Content Type includes only the minimum required fields needed to create a Page. Custom Page Types can be created with additional fields.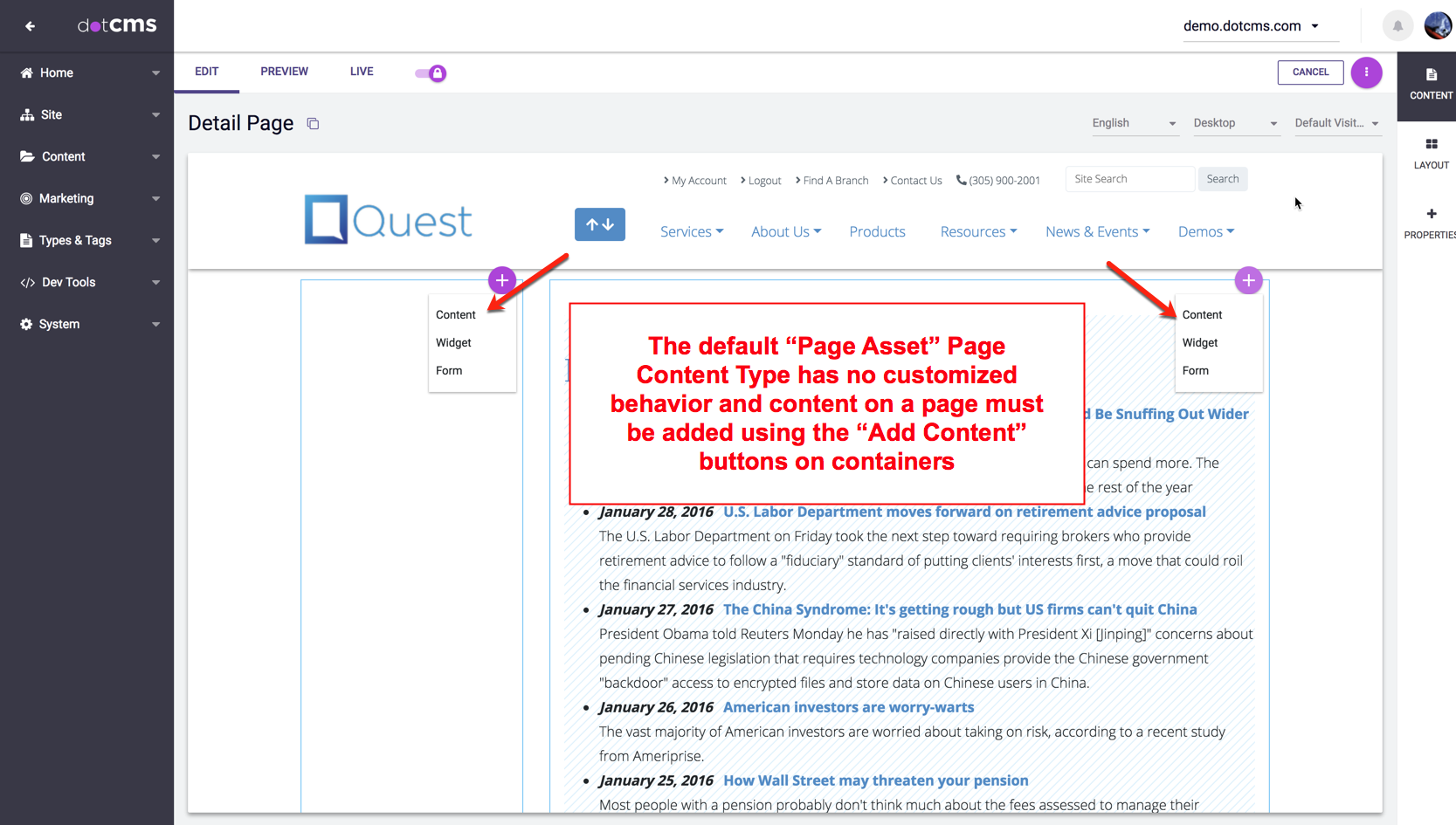 Default Template
By default, no Template is selected for a new Page, and you must select one when creating the Page, since Template is a required field.
However you may specify a default Template to use for your pages by setting the DEFAULT_TEMPLATE_NAME property in the dotmarketing-config.properties file
DEFAULT_TEMPLATE_NAME=Default Template

Editing the New Page
When you first create a new page and Save or Save/Publish, the page is displayed but remains locked, so new content can't be added to the page: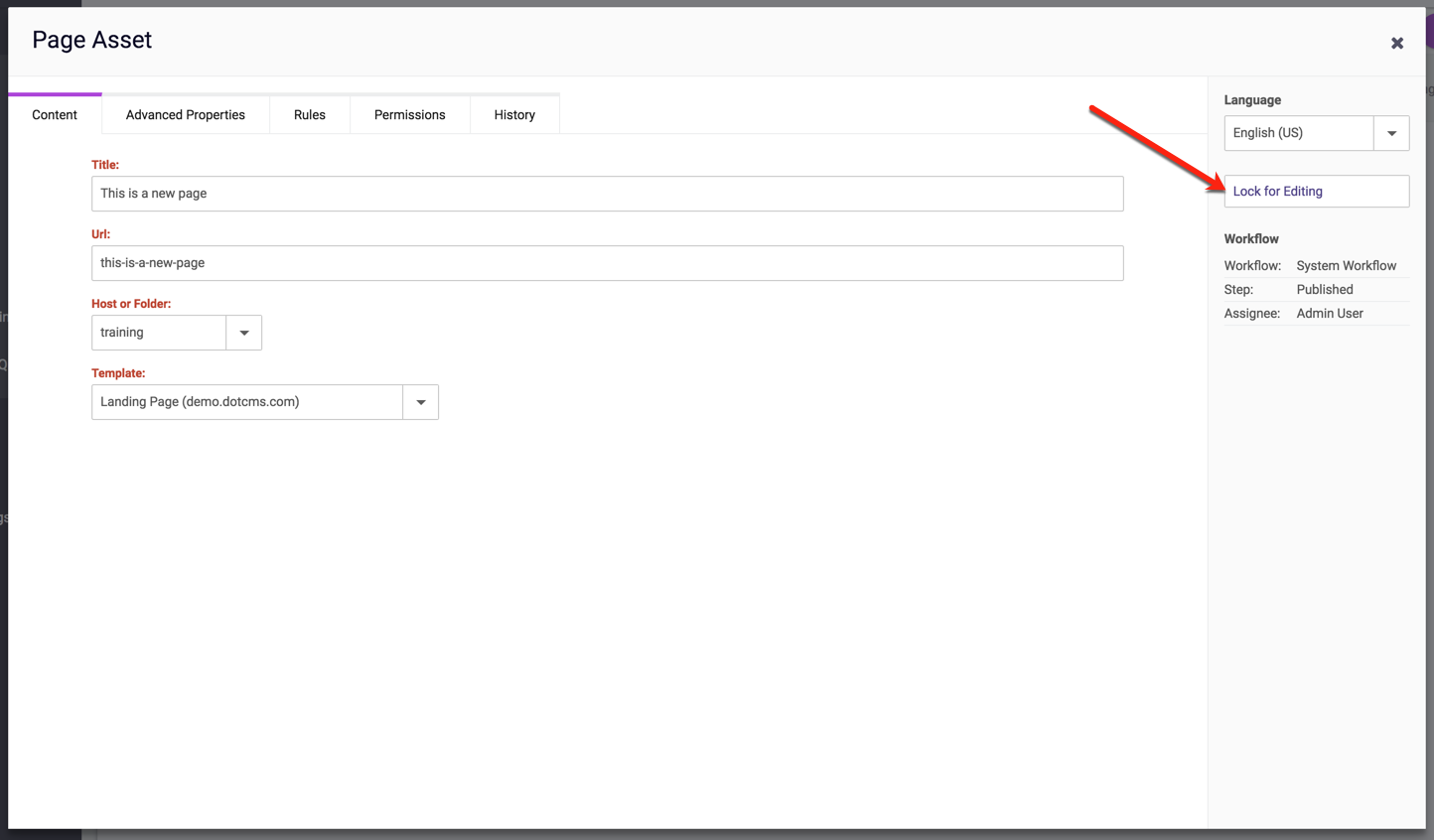 To add content to the page, choose Lock for Editing from the action sidebar. New objects can now be added to the containers in the page (based on the Template assigned to the page):